Barry Ritholz tells us the obvious which alas is ignored. We treat inflation as one number which somehow could be controlled and managed by a central bank. However, inflation is made up of prices of several products and services. These prices in turn depend on the nature of industry of the product. If it is a monopoly, prices will remain sticky/unchanged and if more competitive, prices will change more often.
Inflation isn't dead; it just might not be where you think it is.
To find significant price increases, you need only look in the right places. There are many goods and services with rising prices, as well as those without. Together, they tell a fascinating tale about the modern global economy. Understanding the forces driving prices higher — or not — is crucial to investors and policy makers alike.
Given that the Federal Reserve has been trying to generate inflation for much of the past decade, the significance of the distribution is both important and telling. Why some prices are rising at twice the median rate of general inflation is worth delving into. 
Look at the chart below: it show specific categories of goods and services versus the entire basket of goods and services that makes up the consumer price index.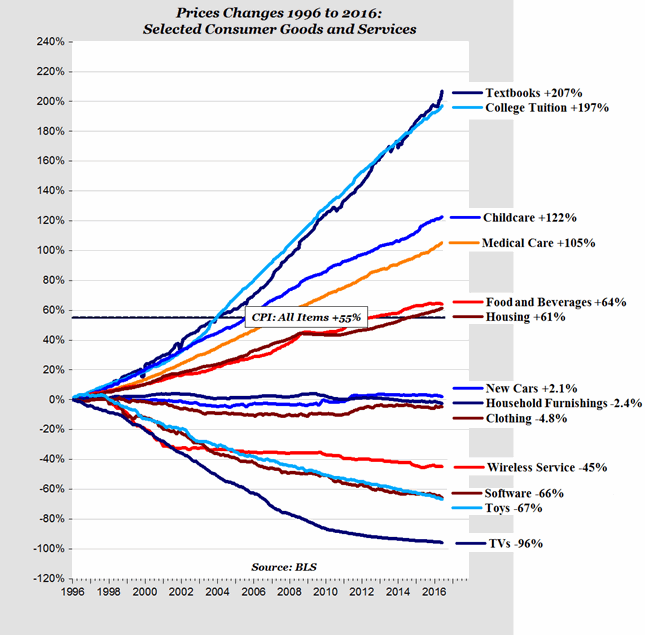 Let's look a little more deeply at each category.
There are multiple factors responsible for such diverse break-up. Text-books and medical care remain monopolies, food and beverages due to dollar depreciation, software/toys/wireless due to competition and so on.
In the end:
So what might we conclude from looking at the chart's component parts? Maybe only that it's a little easier to see why the Fed has been having a hard time getting inflation to rise. While some prices are indeed up, many powerful forces have driven other prices lower — and these are forces that the Fed can't easily influence. Until there is a substantial and sustained increase in wages (or a huge drop in the dollar), inflation may very well remain below the Fed's 2 percent target for a long time to come. 
Not a lesson just for just Fed but all other central banks as well..