Quite stirring pictures to see Icelanders mourn death of a glacier. It was like a funeral of a highly loved person.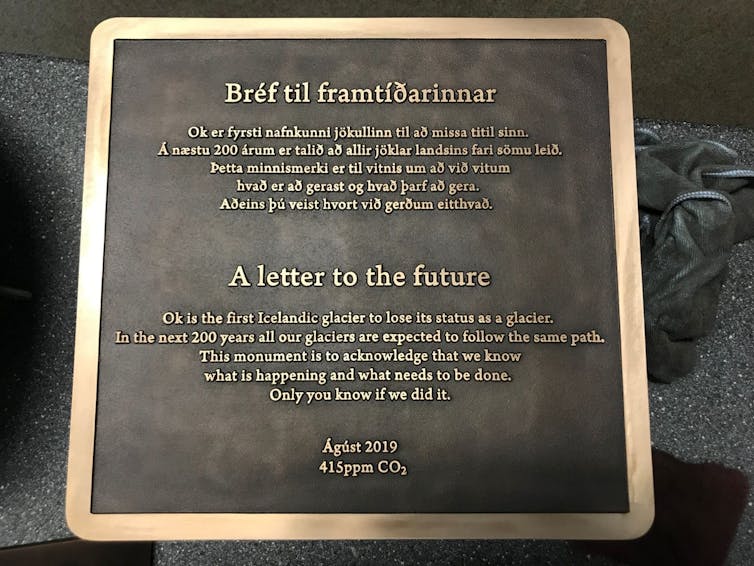 During Okjökull's funeral residents reminisced, public figures such as Iceland's Prime Minister Katrin Jakobsdottir spoke and presented a death certificate, and this plaque was laid. Grétar Thorvaldsson & Málmsteypan Hella/Rice University
Prof Rupert Read of Univ of East Anglia says will this drive us to do somethin about climate change?
Grief over climate breakdown and the degradation of our natural world is also notably different from grief at the death of a loved one, because it never lessens, let alone goes away. The anthropogenic climate emergency will define our entire lifetime, and deeply impact on all of us soon enough. Because of time-lags in the climate system, things will get worse for a long time to come, whatever we do.
Thus, while a healthy reaction to the death of a loved one is to grieve deeply and then gradually to recover, the only recovery from ecological grief that is possible at all is for us to change the world such that our actions no longer deteriorate it.
This is how ecological grief – at the tearing from us of the natural systems we are neither willing nor able to do without – leads to the radical action necessary to bring about a new world.
Given how late the hour is, that means not accepting inaction any longer – and that's up to us. In the words of Iceland's commemorative plaque, laid at the base of the dead glacier as a message to the future: "We know what is happening and what needs to be done. Only you know if we did it."
Humans continue to destroy earth like no other…